Type kreludor gives you one extra life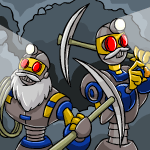 Greetings. We are *whirr* just a couple of poor starving *bzzzz* miners. We need your help to mine precious Kreludan Metal, which we will use so our master can conq... *tsschhk* use to sell to afford a few scraps of bread for our families.
To help us you must *whirr* pilot a remote drone. Use the arrow keys to rotate the drone and the *clunk* up arrow to thrust. The space bar will fire your laser (handy for killing sentient alien fungus), and lastly use the b key to engage the tractor beam. Bring the metal back to our base by dropping it in the glowing yellow collection area.