Waitress | Appetisers | Main Course | Dessert | Cocktails | Eat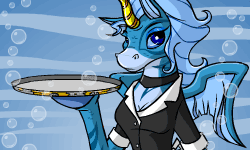 The Filet of Beef is exceptional today!
The menus are at the top of the page. There are four different menus, each one contains many succulent morsels from which you can choose. You may only select ONE item from each menu so choose wisely...
Once you have chosen the foods you want, go to the Eat page and all of the items you have selected will be listed there with the prices.
If you have a change of mind, you can remove items from your list by clicking the Delete button on the Eat page. When you are ready for the meal, hit the Eat Your Food button and enjoy the meal! If you are unable to finish the meal, we can arrange for you to take it home with you
<